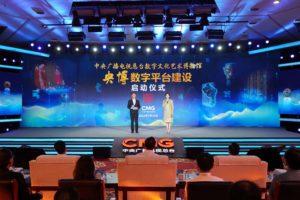 China Media Group is launching its digital art and culture museum. Their online release will be effective in September-October this year. This new museum is about linking all the national museums, national galleries and art schools together and providing digital experience to the public.
Christian Lu is honored to be part of this new project as a cultural collaborator and also as a represented artist painter. Christian Lu is about to return to China by the end of September and start a travelling exhibition: Beijing, Shanghai, province of Anhui, Shenzhen and Hong Kong. More than twenty artworks will be exhibited and main museums will provide 100% digital experience to the public link to this event.
Update 2023 : "The CMG Digital Art Museum is a major initiative of China Media Group (CMG) to accompany the national strategy into building strength through cultural, social and spiritual development, culture digitization and vitalization of cultural relics. This initiative comes with using cutting-edge technology in order to spread Chinese traditional culture. Through its digital media platform that brings together various national cultural resources, one provides accessible, interactive and sustainable spiritual and cultural services for the audience and users.
(in Chinese) : Main article on  CCTV